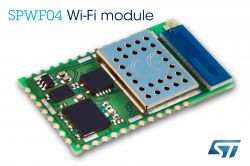 Abbildung kann vom Original abweichen

802.11BGN M4 2MB+1MB flash +ANT
Hersteller:
STMicroelectronics
Matchcode:
SPWF04SA SAMPLE
Rutronik No.:
WLAN1553
VPE:
60
MOQ:
1020
Package:
MODULE
Verpackung:
TRAY
802.11BGN M4 2MB+1MB flash +ANT Beschreibung
The SPWF04SA and the SPWF04SC are ready-to-use Wi-Fi modules conceived for Internet of Things (IoT) applications. The modules integrate a Cortex-M4-based STM32 microcontroller and a powerful Wi-Fi transceiver, compliant with IEEE 802.11 b/g/n standard for the 2.4 GHz band.
The modules are cloud compatible thanks to the complete protocol package, which includes application and security layers. They can operate in serial-to-Wi-Fi and standalone mode, with customer applications developed in the subsystem based on the MicroPython environment.
The modules are configured around a single-chip 802.11 transceiver with integrated PA and comprehensive power management subsystem, and an STM32F4 microcontroller with UART/SPI interface and an extensive GPIO suite; they also incorporate timing clocks and a voltage regulator.
The SPWF04SA module is configured with a highly-efficient, embedded micro 2.4 GHz ISM band antenna, or with an external U.FL antenna connector (SPWF04SC); both are certified FCC/IC and CE.
With low power consumption and an ultra-compact (2.7 x 1.5 cm) footprint, the modules are ideal for fixed and mobile wireless applications, as well as challenging battery-operated applications.
The SPWF04Sx parts are released with an integrated full featured TCP/IP protocol stack with added web server and additional application service capabilities, including REST API for accessing files on servers in the cloud and support for dynamic web pages with SSI functions to easily interact with the module and the host processor over the air. Application note AN4965 on www.st.com provides details on HTTP server capabilities.
Multiple higher level protocols over TCP are supported by the module including: HTTP, MQTT, SMTP, and WebSockets to easily connect application to the cloud. Multiple protocols supported over UDP include: TFTP, SNTP and mDNS; the module also includes IPv6 networking capabilities.
The SW package also has an AT command layer interface for user-friendly access to the stack functionalities via the UART serial port and an SPI interface supporting master and slave messages from and to the host processor respectively (see user manual UM2114 on www.st.com).
The SPWF04Sx includes a MicroPython scripting engine to enable simple and fast custom application development on the module MCU: no external MCU is needed and the customer application runs directly on the module. The interpreter implementation is fully compatible with the standard MicroPython version 1.6. In standalone mode, MicroPython use Wi-Fi interfaces and MCU peripherals such as UART, SPI, I2C, GPIOs via standard MicroPython APIs (see application note AN4964 on www.st.com).
1 MB of the internal Flash is dedicated to store the user file system while a hardware interface allows the usage of an external memory via SPI/SDIO (Serial Flash/SD Card) to further extend the file system storage capabilities.
The module supports WPA2-Personal and WPA2-Enterprise security and WPS (Wi-Fi protected setup).
For secure end-to-end communication with the cloud, an SSL/TLS stack is embedded in every module, with no licensing charge. See application note AN4963 on www.st.com for details on security.
The module firmware may be updated at any time via UART and over-the-air (FOTA); the FOTA operation can be performed with different level of security, as described in AN4963.
ST may update the module firmware at any time; check regularly for documentation and firmware updates on www.st.com/wifimodules.
Key Features
2.4 GHz IEEE 802.11 b/g/n transceiver
High performance STM32F439

ARM® Cortex® -M4
256 KB SRAM
2 MB embedded high-speed Flash memory
1 MB Flash memory for user storage, extendable via SD/MMC interface or external SPI Flash

Integrated TCP/IP protocol stack

8 simultaneous TCP or UDP clients and 2 socket servers (supporting up to 8 clients each)
Secured socket and upper layers (i.e. HTTPS) supporting up to TLS 1.2, including AES (128, 256), hash (MD5, SHA-1, SHA-256) and RSA (1024, 2048)
Web server supporting SSI

Open, WEP, WPA2 PSK, WPA2 Enterprise
WPS for station
System modes: Station, IBSS, and miniAP (supporting up to 5 Stations)
miniAP easily provisioned (SSID, PWD)
Fast Wi-Fi re-association after reset
Secure Firmware and FileSystem updates Over The Air (OTA)
TX power

18.3 dBm @ 1 Mbps DSSS
13.7 dBm @ 54 Mbps OFDM

RX sensitivity

-96.0 dBm @ 1 Mbps DSSS
-74.5 dBm @ 54 Mbps OFDM

19 configurable GPIOs available
UART and SPI interface to host system
Advanced low-power modes

Standby with RTC: 43 µA
Sleep = 3 mA
Idle connected (DTIM=1) = 5 mA
RX traffic 105 mA typical
TX traffic 260 mA typical @ 10 dBm

AT command set interface through UART
SPI interface with simple protocol
Application subsystem

Embedded real-time MicroPython environment for customer applications and on-board development
MicroPython API library for easy access to Wi-Fi subsystem capabilities and device peripherals (i.e. UART, SPI, I²C)

Small form factor: 26.92 x 15.24 x 2.35 mm
Single voltage supply (3.3 V typical)
Antenna options: integrated antenna/U.FL connector
Industrial temperature range: -40°C to 85°C
FCC/CE/IC certified
RoHS compliant
WLAN Standard

b/g/n

Frequenz

2.4 GHz

Anschluß (Interface)

SPI/UART/I

Software

TCP/IP

Antenne

uFL

Tx/Rx

1x1

Empfindlichkeit

96 -dBm

übetragende Leistung

18 dBm

Versorgungsspannung

3.1 to 3.5 V

Betriebs Temperatur

-40 to +85 °C

Größe

27x16x2.35 mm

Automotive

NO

Gehäuse

MODULE

Bleifrei Definition

10

Verpackung

TRAY
ECCN

5a002.a.1

Zolltarifnummer

85176200000

Land

Italy

ABC-Schlüssel

A

Lieferzeit beim Hersteller

29 Wochen