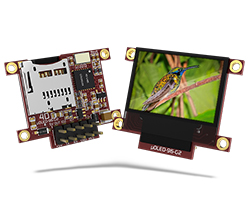 Abbildung kann vom Original abweichen

0.96 96x64 px smart OLED
Hersteller:
4D SYSTEMS
Matchcode:
UOLED-96-G2
Rutronik No.:
DISMON1270
VPE:
1
MOQ:
1
Verpackung:
INDIVIDUAL
0.96 96x64 px smart OLED Beschreibung
DISMON1270 is the article number for uOLED-96-G2
uOLED-96-G2 STEP Model:
https://4dsystems.com.au/mwdownloads/download/link/id/138/

Low-cost OLED display graphics user interface solution.
•96 x 64 resolution, 65K true to life colours, PMOLED screen.
•0.96" diagonal size Active Area on the OLED Display.
•No back lighting with near 180° viewing angle.
•Easy 10 pin interface to any external device:
•3.3Vout, IO2, GND, IO1, RESET, GND, RX, TX, +5V, 5V OUT.
•Powered by the 4D-Labs GOLDELOX graphics processor highly optimised for 4DGL, the high level 4D Graphics Language.
•2 x GPIO ports supports:
•Digital I/O
•A/D converter with 8/10 bit resolution
•Complex sound generation
•Dedicated RTTTL tune engine
•Multi-Switch Joystick, Buttons
•Dallas 1-Wire
•10K bytes of flash memory for user code storage and 510 bytes of RAM for user variables (255 x 16bit vars).
•1 x Asynchronous hardware serial port, TTL interface, with 300 baud to 600K baud.
•On-board micro-SD memory card adaptor for storing of icons, images, animations, etc. Supports 64MB to 2GB micro-SD memory cards. A SPI compatible micro-SD card is required.
•Comprehensive set of built in high level 4DGL graphics functions and algorithms that can draw lines, circles, text, and much more.
•Display full colour images, animations, icons and video clips.
•Supports all available Windows fonts and characters (imported as external fonts).
•4.0V to 5.5V range operation (single supply).
•Module dimensions: 26 x 21 x 13.2mm.
•Weighing ~ 4.5g.
•Display Viewing Area: 20.1 x 13.4mm
•4 x corner plates with 2mm holes for mechanical mounting.
•RoHS Compliant.
•CE Compliant (On Modules with CE Mark).
THIS DISPLAY CAN BE ADAPTED TO ARDUINO SBC WITH 4D Arduino Adaptor Shield II (DISMON1274)

Bildschirmgröße

0.96 inch

Auflösung

96x64 pixel

Helligkeit

100 cd/m²

Farben

RGB 65K

Kontrast

N/A

Breite

26.7 mm

Tiefe

13.2 mm

Anschluß (Interface)

N/A

Bertriebs Temperatur

-35 - +75 °C

Bildschirmart

OLED

TFT with Touch.

NO

TFT Steckanschluss

10 pin Int

Automotive

NO

Bleifrei Definition

10

Verpackung

INDIVIDUAL

Höhe

32.7 mm
Zolltarifnummer

85312020900

Land

Philippines

Lieferzeit beim Hersteller

7 Wochen